Fortinet (NASDAQ: FTNT) is a worldwide provider of network security appliances and a market leader in unified threat management (UTM). Our products and subscription services provide broad, integrated and high-performance protection against dynamic security threats while simplifying the IT security infrastructure. Our customers include enterprises, service providers and government entities worldwide, including the majority of the 2011 Fortune Global 100. Fortinet is headquartered in Sunnyvale, Calif., with offices around the world.
Fortinet's flagship FortiGate security appliances deliver ASIC-accelerated performance and integrates multiple layers of security designed to help protect against application and network threats. Our broad product line of complimentary solutions goes beyond UTM to help secure the extended enterprise – from endpoints, to the perimeter and the core, including databases and applications.
Chassis-class performance in a 3U firewall appliance
As more organizations are adopting 10GbE network infrastructure, Fortinet introduces yet again another high performance FortiGate firewall packed in an appliance form factor. As a fully 10GbE capable firewall, the FG-3950B is a great deal, considering a 120Gbps throughput in a non-chasis 3U appliance. This makes it the cheapest firewall available in the market which delivers dedicated 10GbE performance on each of its 12x10Gbe ports. Fortinet's competitively priced, highly scalable firewalls with unparalleled performance yet again gives Fortinet the competitive edge; greatly distinguishing it from other firewall players.

Others deliver low performance with high cost. We deliver low cost with high performance!
Integrated with the purpose-built processor, known as FortiAsic Network Processor, Fortinet's FortiGate firewalls deliver matchless security throughput at switching speeds. Having thirty-eight hardware accelerated ports, of the 40 total on the system, the revolutionary FortiGate-1240B delivers 40Gbps firewall throughput at only a fraction of the price. This high-performance enterprise firewall is presented at such compelling total cost of ownership, making it matchless in performance and cost.
Most Industry Awards – Fortinet offers the industry's best products and has won the most awards in the network security industry, including Security Product of the Year. The company created and leads the rapidly growing Unified Threat Management (UTM) market space and is the only supplier of real time ASIC-accelerated network security systems. The combination of our suite of industry-leading FortiGuard Subscription Service offerings and our intelligent systems offer Enterprise, MSSP and SMB users unparalleled value, best in class performance, and unmatched functionality when compared to any single purpose security appliance or competing Unified Threat Management system.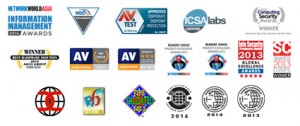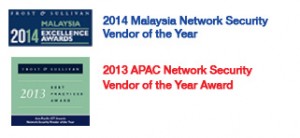 Product Brief
High Performance Firewall, Next-Gen Firewall and UTM FortiGate Platform
Fortinet's Unified Threat Management (UTM) and Next-Generation Firewall (NGFW) solutions deliver high-performance network security for any size organization, from small offices to global telecommunications carriers.
Fortinet engineers FortiGate appliances to achieve some of the highest throughput and lowest latency in the industry, to ensure the network security you deploy doesn't become a bottleneck. Fortinet's integrated technologies give you unmatched visibility and control of your network, users, devices, and applications. You can rely on Fortinet to deliver the protection you need against today's advanced threats.
More info
FortiAP Wireless Access Points
FortiAP Thin Wireless Access Points provide Integrated, Secure Wireless LAN Access for your Enterprise. Enabling simple, cost-effective Wireless Network Access, FortiAPs are an ideal solution for extending your FortiGate Connected UTM. With models designed for small branch offices, distributed enterprise locations, as well as high-density headquarters, FortiAPs allow you to deploy consistent security policies across both wired and wireless networks.
More info
FortiWeb Web Application Firewall
The FortiWeb Web Application Firewall provides specialized, layered application threat protection for medium and large enterprises, application service providers, and SaaS providers. FortiWeb web application firewall protects your web-based applications and internet-facing data from attack and data loss. Using advanced techniques to provide bidirectional protection against malicious sources, application layer DoS attacks and sophisticated threats like SQL injection and Cross-site scripting.
More info
FortiADC Application Delivery Controllers

The FortiADC line of hardware and virtual Application Delivery Controllers provide unmatched Server Load Balancing performance whether you need to scale an application across a few servers in a single data center or serve multiple applications to millions of users around the globe. With included SSL Offloading, HTTP Compression, Global Server Load Balancing, Firewall and Link Load Balancing, they offer the performance, features and security you need at a single-all inclusive price.
More info
FortiSwitch Secure Switching Platforms
FortiSwitch Ethernet Access and Data Center Switches are a feature-rich yet cost effective range of devices, supporting the needs of the SMB and Distributed Enterprises LAN, as well as large Virtualized Data Centers.
More info
FortiCarrier Service Provider Security
FortiCarrier extends FortiGate Network Security Appliances (NGFW, UTM, Data Center Firewall) with additional FortiOS features specifically designed for protecting Carrier/ISP Networks and their customers, particularly with the accelerating adoption of Mobile Data and Wireless LTE infrastructure.
More info
FortiAnalyzer Centralized Reporting
The FortiAnalyzer Network Security Logging, Analysis, and Reporting Appliances securely aggregate log data from Fortinet Security Appliances. A comprehensive suite of easily customable reports allows you to quickly analyze and visualize network threats, inefficiencies and usage.
More info
FortiManager Centralized Management
FortiManager Security Management appliances allow you to centrally manage any number of Fortinet Network Security devices, from several to thousands, including FortiGate®, FortiWiFi™, and FortiCarrier™. Network administrators can better control their network by logically grouping devices into administrative domains (ADOMs), efficiently applying policies and distributing content security/firmware updates.
More info
Click here for more information