FortiGate Firewall | Best First Line of Defense Against Data Breaches
12th Time Gartner Magic Quadrant Leader for Network Firewalls
FortiGate is a smart and comprehensive security firewall that acts as the first line of defense to protect your computers, devices and data. Its purpose-built security processors provide wireless management through its intuitive web-based interface with real-time status updates for efficient network monitoring.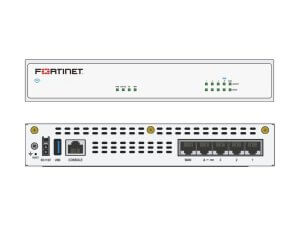 Image via fortinet.com
The FortiGate 40F series provides an affordable, easy to deploy SD-WAN solution that is perfect for enterprise branch offices and mid-sized businesses. With its system-on-a-chip acceleration and industry-leading performance of secure SD-WAN, the FortiGate 40F offers maximum threat protection performance against cyber attacks.
Additionally, its Security-Driven Networking approach provides tight integration of the network to the new generation of security effectiveness using continuous threat intelligence.
| | | |
| --- | --- | --- |
| Firewall Throughput (1518/512/64 byte UDP) |        | 5/5/5 Gbps |
| IPS Throughput |   | 1 Gbps |
| Interfaces |   | 5x GE RJ45 |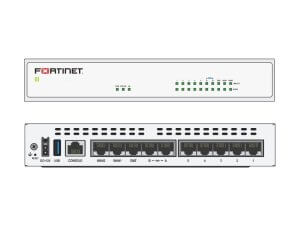 Image via fortinet.com
The FortiGate 60F series provides a fast and secure SD-WAN in a compact and easy to deploy solution desktop form factor. Threat protection against cyber attacks with system-on-a-chip acceleration and high-performance secure SD-WAN, making it the perfect choice for enterprise branch offices and mid-sized businesses.
| | | |
| --- | --- | --- |
| Firewall Throughput (1518/512/64 byte UDP) |        | 10/10/6 Gbps |
| IPS Throughput |   | 1.4 Gbps |
| Interfaces |   | 10x GE RJ45 |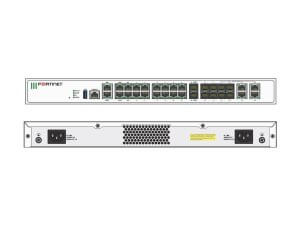 Image via fortinet.com
The FortiGate 100F series is a scalable, secure SD-WAN solution that provides Next Generation Firewall (NGFW) capabilities for mid-sized to large enterprises. It's simple and easy to install and deploy threat protection against cyber attacks with system-on-a-chip acceleration and industry-leading performance of secure SD-WAN.
Firewall Throughput (1518/512/64 byte UDP)

      

20/18/10 Gbps

IPS Throughput

 

2.6 Gbps

Interfaces

 

2x 10 GE SFP+

18x GE RJ45

4x Shared Port Pairs

8x GE SFP
FortiCloud Makes It Easy to Manage and Report on Your Fortigate in the Cloud
FortiCloud is the perfect solution for businesses that need an easy and efficient way to manage their FortiGate next generation firewalls. With FortiCloud, you can deploy, monitor, and manage your entire Fortinet security infrastructure from a single cloud-based management console.
This solution makes it simple and straightforward to get started with Fortinet, and it grows with your needs as your business expands. Learn more about FortiCloud Saas.
SD-WAN: The Hybrid Network That Keeps Your Business Running
SD-WAN is revolutionizing corporate WAN. With its hybrid networking capabilities, it can integrate broadband and other network services into the corporate infrastructure while maintaining the performance and security of critical applications.
And with Application-Aware Routing, SD-WAN can optimize network performance by routing traffic through the most appropriate service. Learn more about SD-WAN.
Unparalleled Third-Party Certifications and Recognitions
Integral Part of the Fortinet Security Fabric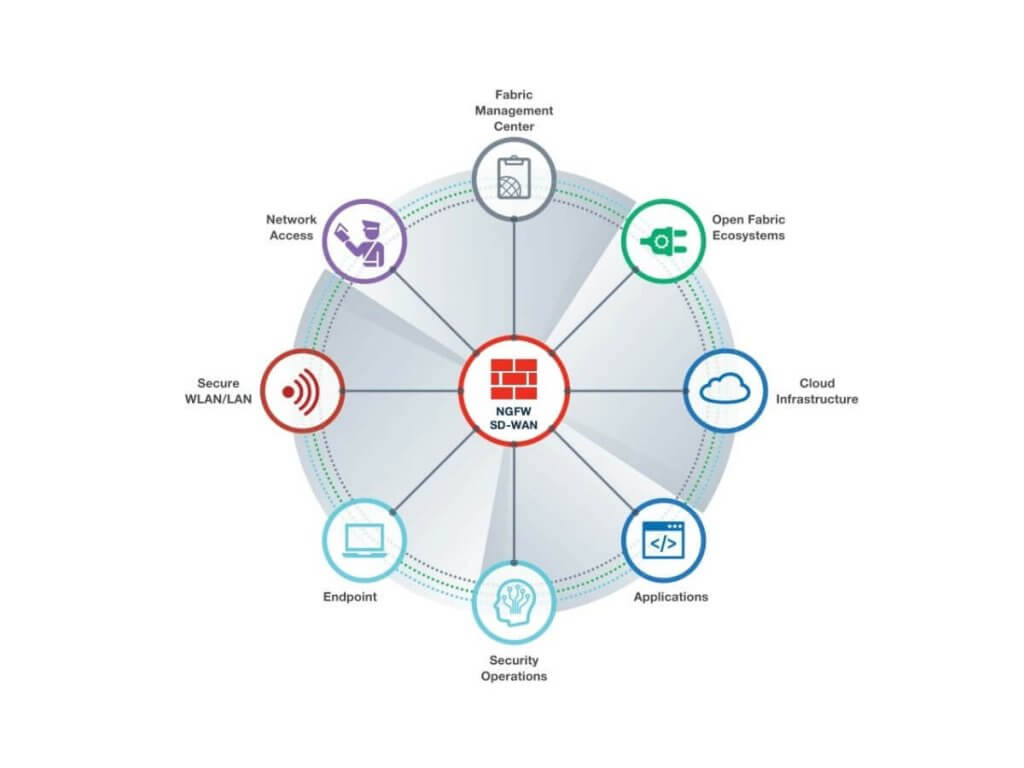 Image via fortinet.com
The FortiGate products are an integral part of the Fortinet Security Fabric which is a highly resilient, adaptive and intelligent network created by Fortinet. The network provides comprehensive protection across the attack surface, including traditional and next-generation firewalls, advanced intrusion prevention (IPS), anti-virus, Web filtering, VPN, and content inspection.
The attack surface grows as organizational perimeters extend due to Digital Initiative transformations. The Fortinet Security Fabric provides end-to-end security and visibility across an organization's network infrastructure.
Security-driven networking solutions for a data centre, branch offices, and small businesses, as well as all major cloud providers, the Fortinet Security Fabric flexes to defend any network segment. A single fabric management centre configures, manages, and monitors all components.
The one interface for all security components decreases the training burden on lean staff while removing point product security infrastructure silos. The fabric management center also enables zero-touch remote component deployment, minimising truck rolls and operating costs.
The Fortinet Security Fabric's common FortiOS network operating system allows for easy configuration, policy management, and real-time communication. This reduces threat detection and mitigation timeframes, security risks from configuration issues and manual data compilation, and compliance audit response times.
The Security Fabric also includes prebuilt API connections for over 70 Fabric-Ready Partners, ensuring deep integration across all Security Fabric elements. Customers can easily add security products not part of the Fabric-Ready Partner ecosystem to the Security Fabric using REST APIs and DevOps scripts.
With the continuously expanding cyber-threat landscape, Fortinet Security Fabric leads the market in applying machine-learning (ML) technology. Security orchestration, automation, and response (SOAR) capabilities are part of the Fortinet Security Fabric.
To expedite an incident response, security professionals must not be distracted by other issues, such as regulatory compliance or the C-suite. The Fortinet Security Fabric automates log aggregation, data correlation, and report production.
Frequently Asked Questions on Fortinet FortiGate
Secure Your Network With FortiGate
Security network is a big concern for businesses, especially as the number of connected devices grows.
FortiGate firewalls are purpose-built security processors to enable the industry's best threat protection and high performance for SSL-encrypted traffic. These firewalls provide complete visibility of users, IoT devices, and applications inside network traffic, they are designed to identify issues quickly and intuitively.
FortiGate firewall provides multi-faceted threat protection against today's sophisticated attacks by combining next generation firewall capabilities with advanced threat protection features such as IPS, AntiVirus/AntiSpyware (AV), Web Filtering/Content Management System (CMS) and Application Control in a single platform.
This provides you with the ability to see all network traffic entering your organization from any source or going out through an internet connection while protecting your critical data assets with improved threat protection from malware and other cyber attacks that can potentially cripple your business operations.
Contact us today for the best price of the FortiGate Firewall!