Hackers Are Attacking Small Businesses with Ransomware
Ransomware is when hackers gain access into an organization's network, usually via malicious email, and demand payment of the organization to get its data back. Larger businesses can sometimes absorb ransom demands, but for SMBs, a ransomware attack is potentially catastrophic. For many organizations, the loss of critical business cycles and revenues from systems that are grounded far outweigh the price of the ransom itself.
Seventy-one percent of ransomware attacks in 2018 targeted small businesses.
Ransomware activity jumped 7x from July to December 2020
Reduce the Risk of Ransomware Incidents with Fortinet
Fortinet Delivers Comprehensive Protection Against Ransomware
Few security vendors offer solutions to protect their clients across multiple attack vectors, specializing in one area but not another and forcing their customers to build and manage custom integrations or invest in additional third-party tools.
Only Fortinet is engineered to bring a broad, integrated, and automated Security Fabric approach to security across network, email, and endpoint security along with Cyber Threat Assessment Programs (CTAPs) to help businesses identify potential risks and solidify their defenses.

FortiMail Prevents Phishing and Other Email-initiated Attacks
FortiMail is available as a SaaS offering or on-premises device and brings powerful anti-spam and anti-malware capabilities to organizations to stop unwanted bulk emails, phishing attempts, and other business email compromise techniques. Complemented by technology designed to prevent outbreaks, automatically remove harmful active content embedded in messages and impersonation, FortiMail is a strong first step to protecting the business from ransomware.
Security-driven Networking Prevents Malicious Files and Communications on the Network
The Fortinet FortiGate next-generation firewall (NGFW) is the most widely deployed NGFW on the market and ensures malicious actions and communications crossing the perimeter are blocked, such as when a user accidentally arrives at a malicious website and a drive-by download attack ensues. Administrators gain visibility over how applications are interacting with data, users, and the devices with out-of-the-box reporting and the ability to easily control these activities to better protect the business. With plug-and-play ease, businesses can effortlessly extend this security to wireless (FortiAP) and wired (FortiSwitch) devices to harden their infrastructure

FortiClient and FortiEDR Stop Attacks at the Endpoint
FortiClient strengthens endpoint security through integrated visibility, control, and proactive defense. With the ability to discover, monitor, and assess endpoint risks, IT teams can ensure endpoint compliance, mitigate risks, and reduce exposure. FortiEDR provides additional protection by detecting and defusing potential threats in real time and can automate response and remediation with customizable playbooks.

FortiSandbox Cloud Prevents Advanced Threats and Automates Threat-intelligence Sharing
When security solutions aren't designed to work together, the burden of creating automation and scaling to address the endless number of alerts from disjointed products falls on the business. The Fortinet Security Fabric answers this challenge with FortiSandbox Cloud. As a licensing option for the above solutions, FortiSandbox Cloud creates a central point for products to send unknown files. Advanced analysis determines their threat level and communicates this information across the Fabric. Threat intelligence is gathered from Fortinet customers around the world and shared, ensuring no matter where a threat was first encountered, the entire community has actionable intelligence.
Helping SMBs Put Ransomware in Its Place
As long as smaller businesses present an easy target for cyber criminals, the threat of ransomware will not go away on its own. The Fortinet Security Fabric architecture offers SMBs advanced capabilities and threat-intelligence sharing to help them prevent, detect, and remediate ransomware and other sophisticated modes of attack.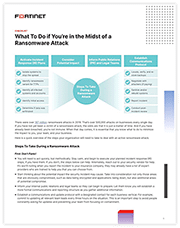 What to do if you are in the midst of a ransomware attack? 
There were over 187 million ransomware attacks in 2019. That's over 500,000 attacks on businesses every single day. If you have not yet been a victim of a ransomware attack, the odds are that it is just a matter of time. And if you have already been breached, you're not immune. When that day comes, it is essential that you know what to do to minimize the impact to you, your team, and your business.
Download this useful guide